Hiring Information
The Ararat Town Hall has numerous areas available for hire for your next function, whether it be a theatre production, wedding, meeting, conference, party, dinner. Talk to us about your hiring requirements.
Application to hire can be found here: here 
Venue Enquiries
Venue enquiries including inspection of hire spaces can be made by appointment – Contact Us here.
Office Hours
Tuesday through to Friday from 10:00am – 4:00pm Closed public holidays
Auditorium
This room can be utilised as a large space for such events as concerts, theatre productions, cabaret, formal balls and expositions. Due to flexibility of auditorium lay outs, a vast array of set up options are available, making it possible to configure it in such a way as to reduce the size utilised, thus providing a cosy and comfortable setting. For shows such as concerts or seminars, we can comfortably seat up to 500 people. For theatre productions, which are usually performed on the floor in front of the retractable seating, usual arrangements allow for 243 people, but increased numbers can be accommodated if the performance takes place on our modular stage (although this can restrict movement of actors, scenery and piano use). Two large dressing rooms and a spacious green room are available.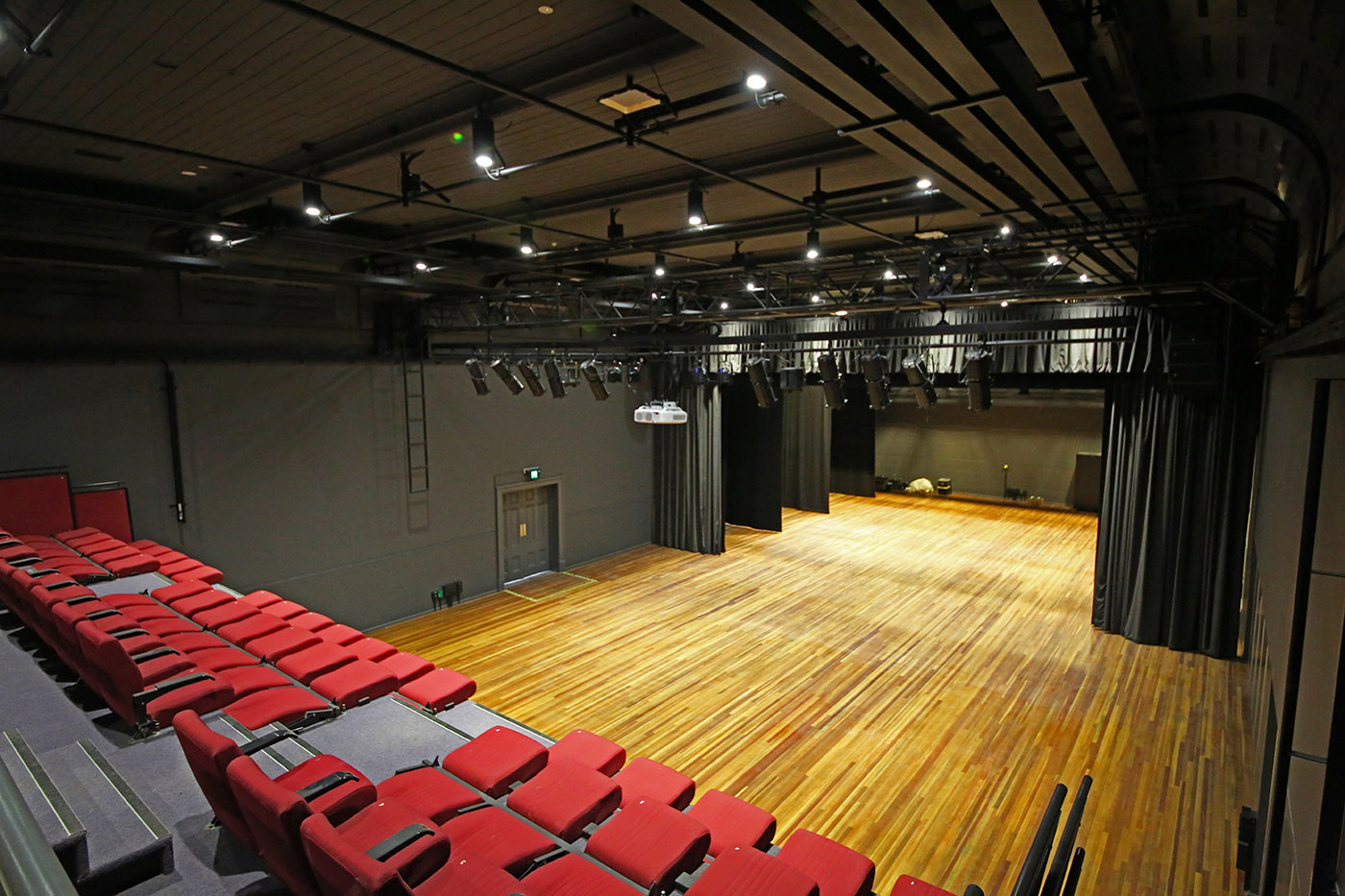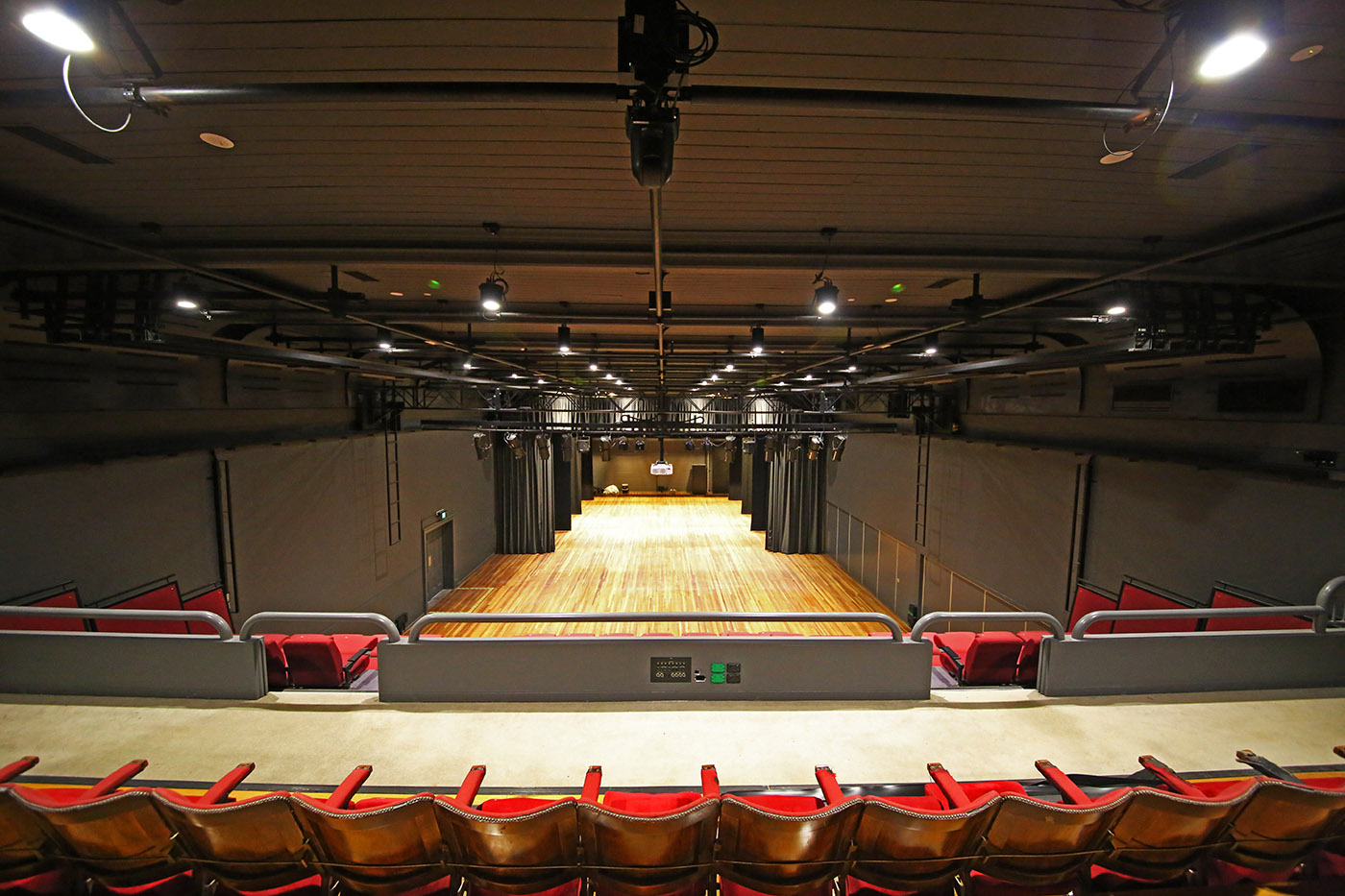 Supper Room
An area which is adjacent to, and smaller in size, than the auditorium. The Supper Room can be used as a dining room, meeting room, training room, auction room, and also as an extension of the auditorium when extra space is required.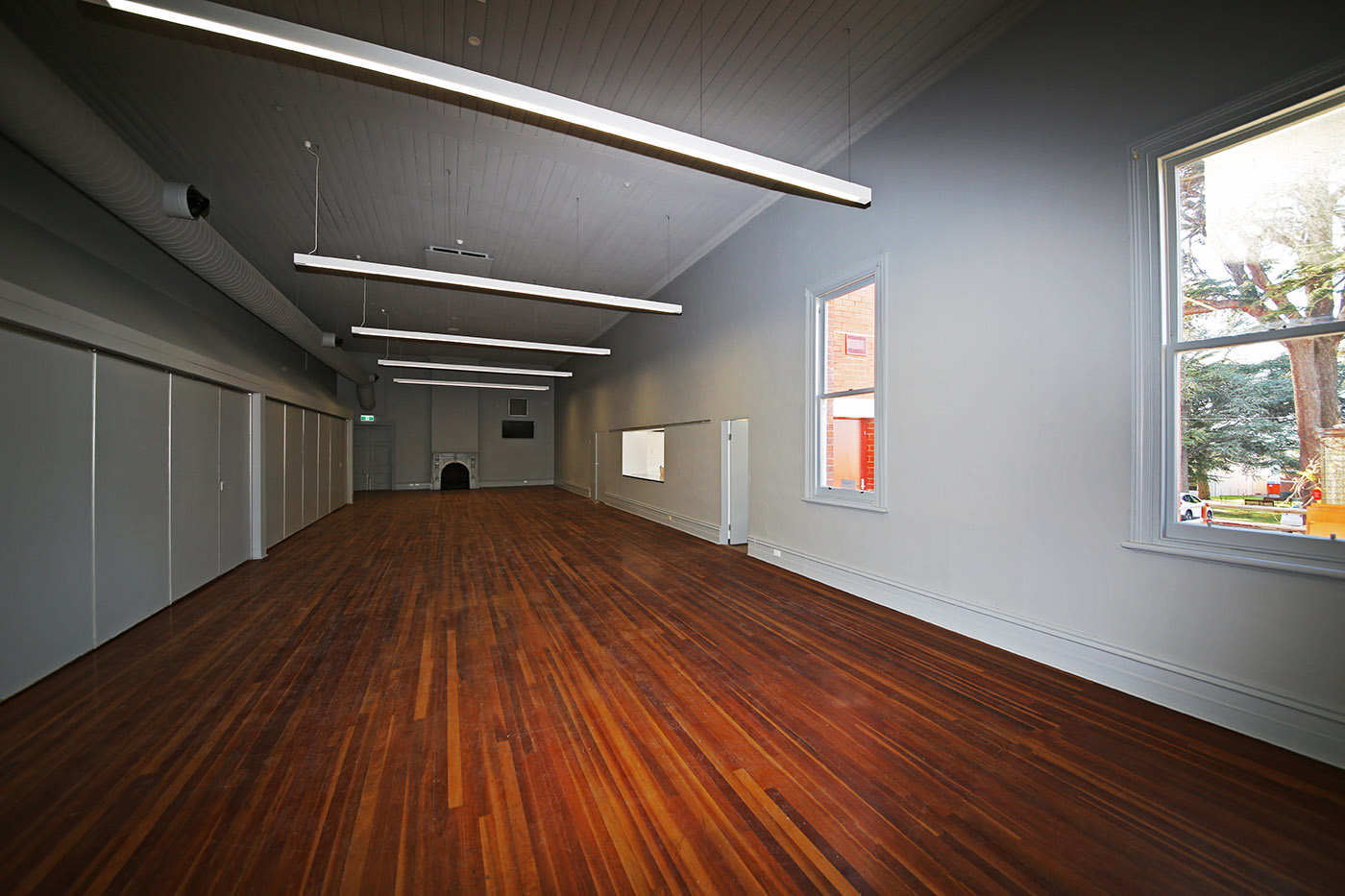 Foyer
This area is often used for smaller meetings, auctions and receptions. The foyer houses a new bar, ticket box, cloaking area and lounge.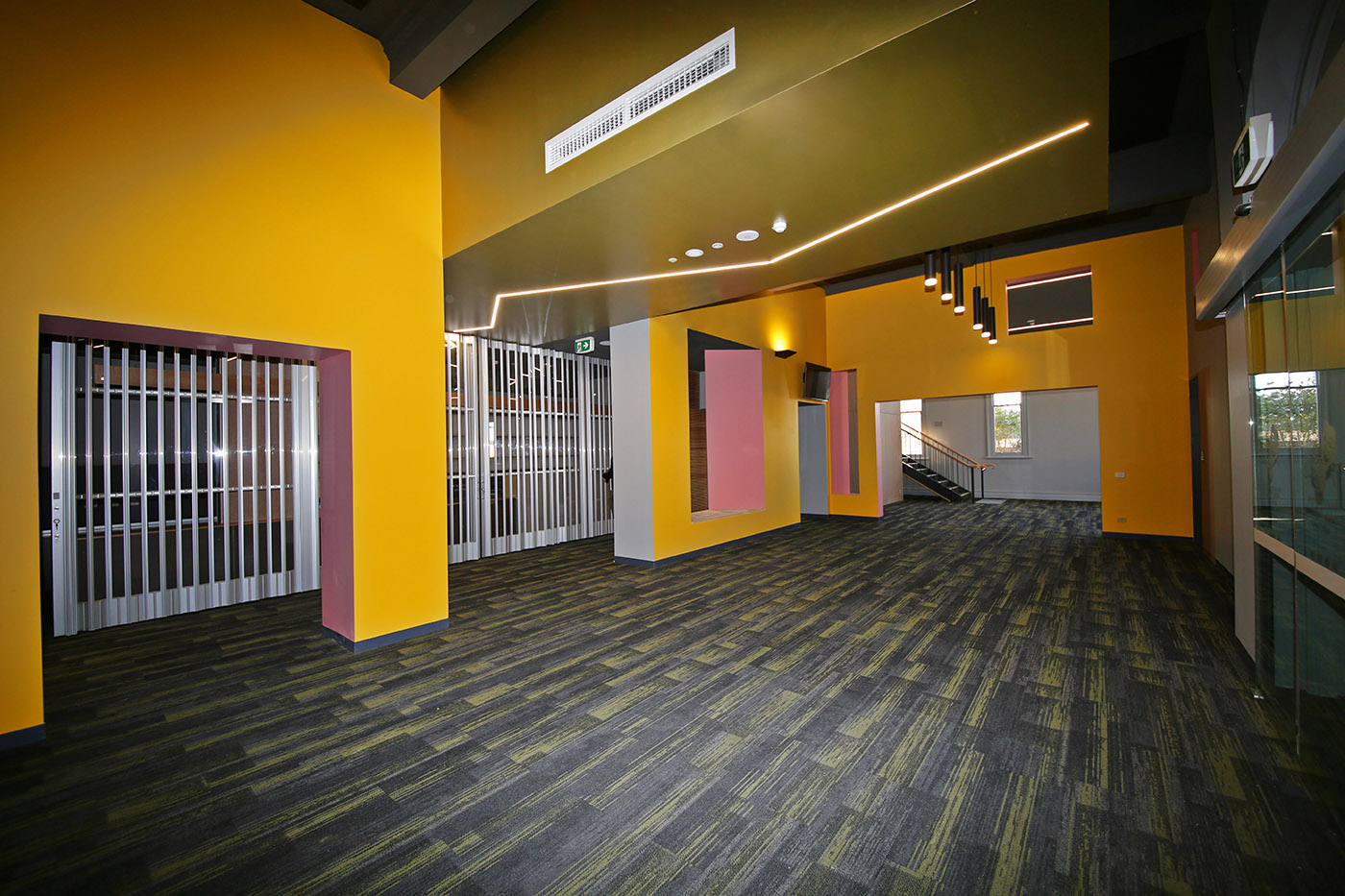 Kichen
The kitchen is well equipped with:
Combi oven
4 burner stove
Dishwasher
Large coolroom
Instant hot water unit
Display fridges x 2
Stainless steel bench tops
Servery area to supper room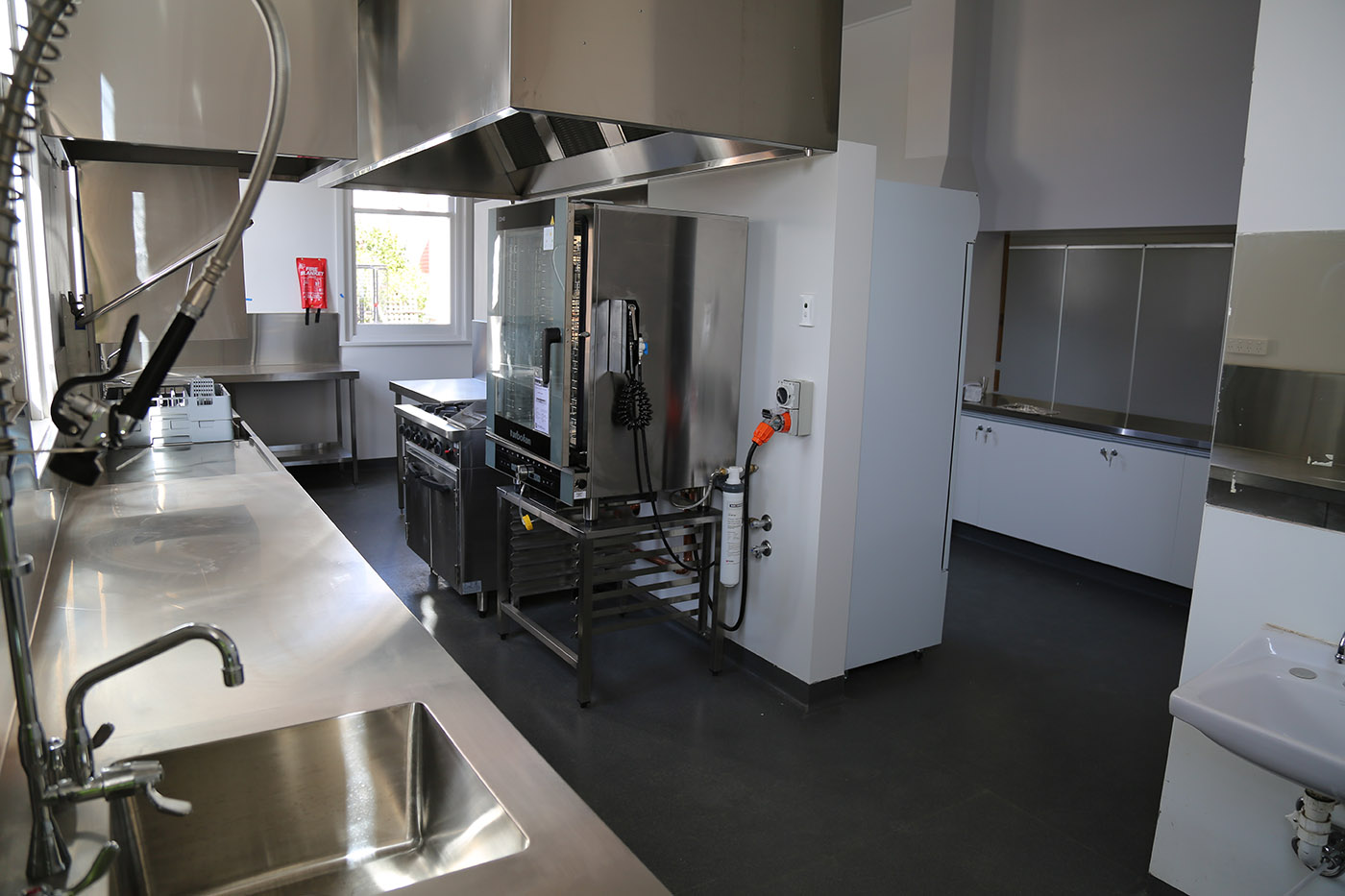 Stage
Staging consists of three options- Oak floorboards, Portable stage or Modular Stage.
The Town Hall's floor is made of polished oak floorboards, which are appropriate for many styles of show and presentation.
We own two portable stage units. Each stands at a height of 0.6 metres, and is 2.4m x 1.8m. These can be configured to preference.
The modular stage (rostra) stands at 0.8 metres tall. We possess 30 units of 2m x 1m can be erected. While we have recommended configurations, these can be done to client requirements. Safety railing is provided for this stage.
We own three sets of stairs. Two of them are matching and fit the modular stage, while the third can be used for either the modular or portable staging units.
Common raised stage dimensions:
Small- 4m x 2m
Medium- 6m x 4m
Large- 8m x 5m
Huge- 10m x 6m
Height & Width
Floor to light grid: 7 metres
Floor to FOH lighting bar: 6 metres
Floor to underside of movable trusses: 5.5 metres
Room Width (unmasked): wall to wall 14 metres
Stage Width (masked): 9.5 meters
Stage Depth from proscenium to cyclorama (minimum)*: 6.3m

*Please note, due to the rolling truss detailed below, stage can be as deep as your seating choice allows.
Curtains & Drapes
Front draw curtains attached to truss2 (LX1) – can be operated from control room or prompt side, side stage.
Back draw curtains.
Half Tabs.
Legs and borders on LX 1-4.
Electric scenery rollers x 2 (LX3, LX 4)
Cyclorama
Electronically retractable projection screen (LX 2)
Lighting
Lighting bars and ancillary equipment (e.g. curtaining) is mounted on rolling trusses which move through the hall.
Five rolling trusses, of which 4 trusses are usually mounted over the stage area, and 1 is utilised as a FOH bar.
ETC Nomad lighting control with Gio Control surface and 20-bank fader wing.
Selecon Zoom Spot 16-32degrees (1200 watts) 6 units
Selecon SPX Zoom Spot 15-35 degrees (800 Watts) 10 units
Source 4 Junior x 6 units
RAMA Fresnels x 8 units
Rank Strand 803 Fresnels (500 watt) 4 units
ETC Coloursource LED Par Cans (10 units)
RGB LED Par Cans (14 units + 6 units, of differing brand)
RGBW LED Par Cans (10 units)
Control – operable from control booth or auditorium. There is DMX and 240v or dimmable power available at multiple points within the auditorium and on each bar.

The following equipment is available but not in our standard set up. Please advise us well in advance to use any of the following.

Follow Spots x 2 units
Mirror Ball
Look Unique 2.1 Hazer
Limited lamp stock.
Power
3 Phase power is available throughout  the auditorium
Clean 240 volt 10 amp power is available (specifically for audio),  throughout the building
Numerous power points (GPO) are available throughout the building
Audio
Yamaha QL1 digital mixing console
FOH speakers are mounted on truss No. 2 (LX1) and are more than sufficient for the auditorium, with an excellent sound quality. (LAcoustics)
Two speakers are mounted on LX 1 for stereo or dual overhead foldback.
Patch points available throughout the building
Sennheiser G3 835 Radio microphones x 4
Sennheiser G3 Body pack transmitters + microphones x 2
PGX2 SM58 Radio Microphones x 4
Shure SM58 line microphone x 10
Shure SM57 line microphone x 6
Beyer dynamic switchable line microphone x 2
Sennheiser E614 x 2
Radial J48 Active DI boxes x 6
Radial BT-PRO Bluetooth DI x 1
Radial Trim Stereo DI x 1
Behringer DI-100 Active DI x 5
QSC K8.2 Foldback wedge x 2
Electro-Voice 15p fold back wedges x 3
Compact disc player
Piano
1952 Steinway M baby grand
Access to Stage
Loading Bay at rear of building (off High Street – Western Highway).
1 metre high clearance for trucks
4 meters wide x 5 metres tall.The loading bay delivers to the production corridor, from which is accessed the green room, production office, dressing rooms, supper room and the back of the auditorium.